Its digital display shows data sampled by EVO4 logger, coming from Engine Control Unit and sensors.
With

Formula Steering Wheel

you keep constantly monitored:
Lap/split times and lap number
Speed or RPM graphical view
8 channels (2 per page) selected configuring EVO4 with

Race Studio 2

software.
Formula Steering Wheel

also displays:
4 alarm leds, associated to the desired channels
Configurable shift lights

It also features switch buttons to remote 4 functions among the options available in your car, like speed limiter, traction control, neutral, etc.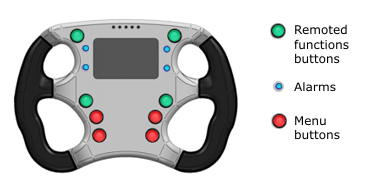 You can also visualize GPS signal strength and - if the circuit is not included in the tracklist - to fix finish-line and split points.